Добър ден, любима. Бях далеч в родния си свят за малко, но виждам, че нещата са се развивали добре тук. Има повече светлина сега, хвърлена върху твърденията на Дейвид във връзка със Златото, радвам се да видя, че повечето от вас нямат търпение да донесат повече информация към сърцата на онези, които са в паника относно финансовата система.

Както ви беше казано преди, това е ситуация, създадена, проектирана от тъмните заговорници, аз също ви казах, че количеството на златото е голямо и изобилно. Не се оставяйте да бъдете заблудени от всички онези, които искат да ви хванат чрез….знаете какво имам предвид! Заговорниците ви искат притиснати в ъгъла в страх и отчаяние, за да ги снабдите с все повече и повече власт над вас. Те искат вие да се съмнявате във всичките си сетива, в собствената си преценка, а страхът и паниката са техни любими оръдия.

Идеята за наличието на щастлива, независима и интелектуално еволюирала човешка раса е отблъскваща за тях, тъй като всичко, което те желаят, е да експлоатират вашите страх, невежество и съмнения. Бъдете внимателни с фалшивите пророци в идващата година повече от когато и да било преди. Най-голямата опасност, която вие можете да представлявате за заговорниците, е да бъдете щастливи, задоволени, да сте уверени и достойни. Започна изобличението на интелектуалците и свободните мислители. Заговорниците насърчават и подкрепят поведение на предателство, дребнавост, алчност и плиткоумие.

Заговорниците нямат чест, нито достойнство, нито съчувствие, нито доброта. Тяхна цел също е да измъкнат от вас всякакво чувство за благосъстояние, на свобода и ви отказват достъп до По-висшето ви съзнание. Те искат вие да се мотаете в лъжите, с които сте били захранени и да разчитате на фалшиви пророци. Те желаят да ви държат затворени в малка кутия и да ви хранят, с каквото искат и когато искат. За тях човешката раса не е нищо друго освен добитък. Стадни животни, които те искат да държат под пълен контрол, без да имате представа за истинската си природа.

Стремете се да станете това, което вече наистина сте, стремете се да се обедините с вашето космическо семейство, стремете се да се обедините с вашите по-висши центрове, с вашия висш аз. Вие сте раса от Богове, от истински божествен произход, вие сте същества, изградени от светлина, обвързани с материята. Това може да бъде много щастливо обединение на Божията Искра и Божието Творение. Това може да бъде прекрасно изживяване на любовта, радостта, докато преодолявате мрака и материалните ограничения.

През идващата година, ще ви се даде възможност да блеснете и да се освободите веднъж за винаги от илюзията. Ще ви се представят много предизвикателства, но знайте, че нито едно от тези предизвикателства някога ще бъде твърде голямо за вас, за да не можете да го преодолеете с божествената помощ отгоре и заедно с вашите приятели и космически братя. Когато се чувствате извън равновесие, спомнете си кои сте вие и че сте обичани отвъд представите ви.

Алъндейл
Лаура Тайко
Всички права запазени
Copyright © Laura Tyco. All Rights
Reserved. You may copy and redistribute this material so long as you do not
alter it in any way and the content remains complete, credit is given to the
author, and you include this copyright notice
link:
http://galacticlauratyco.blogspot.com/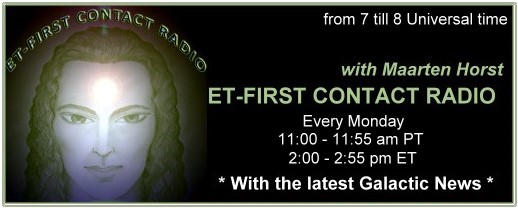 Every Monday night from 8 to 8:55 pm
channelings and related matters are being discussed on First Contact Radio.
The show is hosted by Dutch lightworker Maarten Horst and is presented in English.